Isokaari is such a unique street in Helsinki, perhaps in the whole of Finland, that it deserves to be listed as a park attraction. It is, indeed, the only garden street in Helsinki that is lined by crabapple trees – 130 in all. Approximately half of these have white blossoms and the other half different shades of red. This street is definitely worth a visit when the trees are in bloom in early June.
Bengt Schalin, City Gardener from 1946 to 1957, can be thanked for the large number of crabapple trees. They were one of his favourite varieties, and he sourced them also from other parts of Europe. Unfortunately, he did not leave behind plans or listings of all the trees he had planted, so researchers today have a lot of work to do to determine all the varieties. The Public Works Department commissioned a study of the crabapple trees in Helsinki's green areas in 2007.
According to different sources, the Malus genus of apple trees comprises between 30 to 55 different species, not including crossbreeds and subspecies. The most familiar, of course, are the species that produce fruit, which were also the first to be introduced to Finland.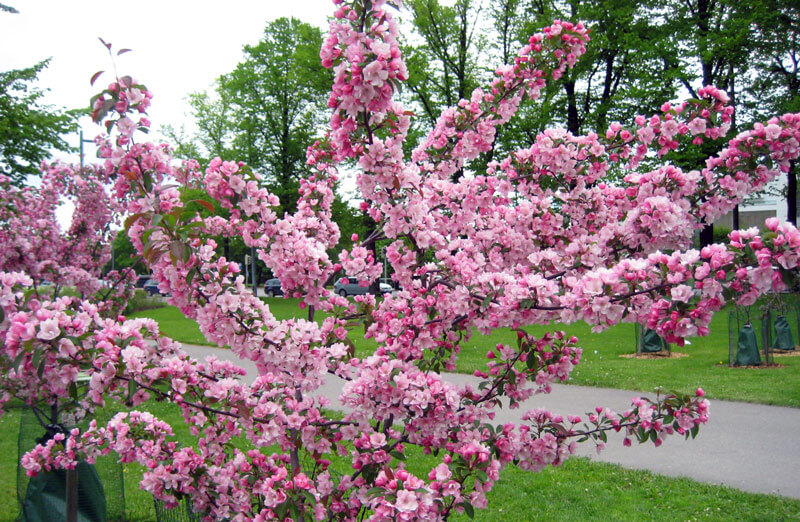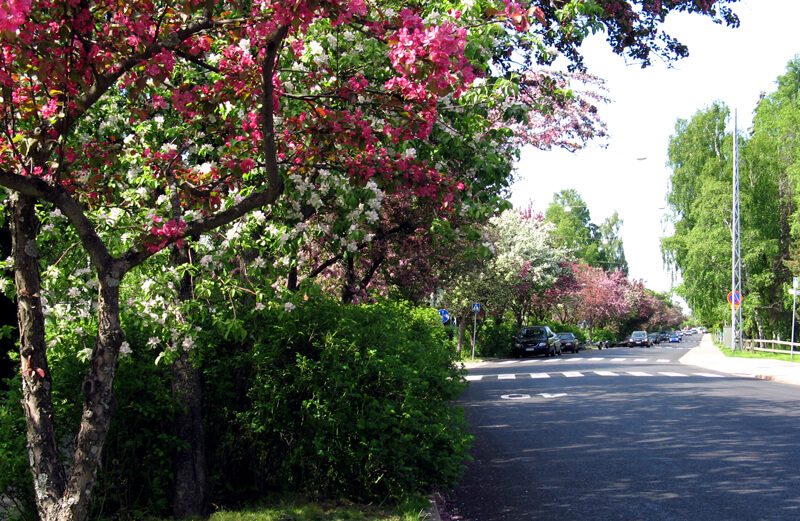 Crabapple trees first appeared on the grounds of manor houses and subsequently in private gardens and parks. The first study into crabapple trees in Finland was made in the 1960s. The crabapple trees in Finland can withstand the harsh winters better than delicate Japanese cherry trees, for example, and so have become increasingly popular in Helsinki's parks and private gardens. The trees also have colourful fruit and beautiful autumn foliage.
The fruit of crabapple trees are usually too sour for eating. Residents along the Isokaari garden street have also complained that they make a mess when they fall and are crushed by passing vehicles. The attraction of crabapple trees, of course, is their wonderfully colourful and abundant bloom. The colour spectrum ranges from white to delicate pink to rich burgundy.
Crabapple trees grow to a height of 4 to 6 metres and are already old after 40 to 50 years. Popular varieties include Malus x adstringens 'Makamik', which has dark red blossoms with a white centre, and Malus x adsringens 'Hopa', which has pink blossoms. As part of the KESKAS project, the local species 'Aamurusko', 'Linnanmäki', 'Kadetti' and 'Rixi' were introduced for cultivation.
If you want to make an impression on your boyfriend or girlfriend, take them on a spring walk along Isokaari!